Investigation on Wood Borers in The Tree Holes of Aralam Wildlife Sanctuary, Kerala, India
GANA KARIKKAN

SHEIK MOHAMMED SHAMSUDEEN
Keywords:
Wildlife, Sanctuary Cerambycidae wood borers, major, damages, trees
Abstract
The present study of wood-boring insects was carried out during the period from February 2019 to April 2021. A Field survey was conducted in different areas of Aralam Wildlife Sanctuary. The collected borers were under 9 Families named Cerambycidae, Curculionidae, Brentidae, Bostrichidae, Buprestidae, Anthribidae, Elateridae, Passalidae, and Tenebrionidae. Among the wood borers, primary borers cause serious damages to both live and dead trees compared to secondary borers. In dead trees, members of the family Curculionidae cause major damages to host trees followed by Cerambycidae.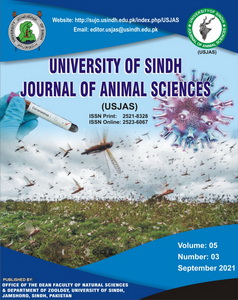 papers are accepted on the understanding that the work has been submitted exclusively to the journal and has not been previously published. Authors will be supplied with copyright form, which must be completed and returned to the publisher. Papers will not be published until the signed copyright disclaimer has been received.
Kindly download the copyright for below and attach as a supplimentry file during article submission