Investigation of Different Varieties of Zooplankton in Keenjhar Lake of District Thatta
KHALID HUSSAIN LASHARI

ZAMEER ALI PALH

SHAHARYAR BROHI

SUJO MEGHWAR

AFTAB KHAND

SHAHID ALI SHAIKH

MUHAMMAD KHALID SHAIKH

JAVED ALI SOOMRO

RAZIA SUHAG

SIRAJ AHMED BROHI
Keywords:
Zooplankton, Keenjhar lake, Rotifera , Cladocera , Copepoda
Abstract
Zooplankton is a global organism that may be found in all freshwater tropical wetlands. The current study looks at the monthly variations in the diversity and thickness of Zooplankton in Keenjhar Lake. The work was completed over the course of a year, from January 2019 to December 2019. Zooplankton population status in Keenjhar Lake included 40 taxa divided addicted to 03 primary collections. It is divided into three main groups: Rotifera, Cladocera, and Copepoda A 53 percent Rotifera, 25 percent Cladocera, and 22 percent Copepoda zooplankton sample was collected. Rotifera dominated in terms of diversity and population density among the zooplankton species examined.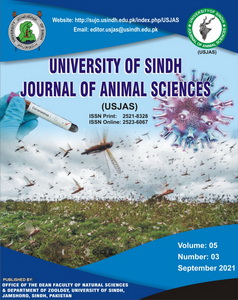 papers are accepted on the understanding that the work has been submitted exclusively to the journal and has not been previously published. Authors will be supplied with copyright form, which must be completed and returned to the publisher. Papers will not be published until the signed copyright disclaimer has been received.
Kindly download the copyright for below and attach as a supplimentry file during article submission