Estimation of Manganese Concentration in Puntius Tetrazona (Tiger Barb) from Multan
SAFDAR IQBAL

MUHAMMAD ASAD SAJID

MEHWISH BIBI

SYED MUHAMMAD FARAZ SHAH

IMRAN IQBAL

TALAT SABTAIN

MUHAMMAD NAEEM

MUHAMMAD SOHAIB EHTESHAM
Keywords:
Heavy metals, atomic absorption, Morphometry, Puntius tetrazona, Condition factor.
Abstract
Heavy metals are the most significant contaminants in aquatic ecosystems. The majority of heavy metals tend to concentrate in tissues as well as other organs of the fish's body after drinking polluted water, resulting in fish poisoning. These metals can interfere with reproduction and growth, as well as damage the immune system and cause pathogenic repercussions. Water in Multan city may be polluted with several heavy metals. The usage of this water given to the aquarium may have an effect on the growth and weight of the Tiger barb (Puntius tetrazona). The effect of heavy metal (Manganese) on this fish has not been determined in the Multan city region. Fish samples were gathered from the Multan city region. Each sample of fish (Puntius tetrazona) had passed through Morphometric procedure then calculated the wet and dry weight of each sample. All samples were dried in microwave oven and were grinded to powder. After grinding, samples were subjected to ash formation by Muffle furnace. Then ash of each sample was dissolved in 1%HNO3 to form solution. Then elemental analysis was determined by Atomic Absorption Spectrum. Presence of Manganese was confirmed and its effects were determined on Puntius tetrazona by different statistical techniques.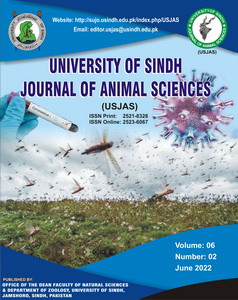 papers are accepted on the understanding that the work has been submitted exclusively to the journal and has not been previously published. Authors will be supplied with copyright form, which must be completed and returned to the publisher. Papers will not be published until the signed copyright disclaimer has been received.
Kindly download the copyright for below and attach as a supplimentry file during article submission