Effects of Feed Additives Garlic and Onion on Growth of Mrigal (Cirrhinus Mirgala) Fingerlings
ARIANA ALI

ISRAR MAQBOOL

MUHAMMAD ASHRAF

TASLEEM KAUSAR

FAISAL JAMEE

MALJA IMAN YOUSAF

SAIMA TALIB

ALIA HUSSAIN
Keywords:
Fish, Garlic, Onion, Phytoadditives, Growth, Feed, Cirrhinus mrigala, supplements.
Abstract
The purpose of this study was to see how dietary garlic and onion powder effected on Cirrhinus mrigala. Feed additives such as garlic and onion are used. Cirrhinus mrigala was fed garlic and onion supplementary meals containing 2.5 percent of their body weight for a total of 60 days. The initial body weight and length of Cirrhinus mrigala fingerlings were respectively 18.48±0.139g and 10.17±0.123cm. When garlic and onion were fed together, the effect of garlic and onion on Cirrhinus mrigala growth performance was examined. Final weight was 29.37±0.071 and final length was 13.2±0.022cm, indicating that feed consumption was enhanced based on growth performance. The current findings showed that dietary garlic or onion powder, given alone or in combination, might increase mrigal (Cirrhinus mrigala) survival, growth, and feed consumption. Based on the findings, it can be concluded that feeding a food supplement (onion and garlic) to fish, either alone or in combination, enhanced their growth performance.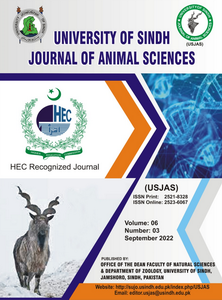 papers are accepted on the understanding that the work has been submitted exclusively to the journal and has not been previously published. Authors will be supplied with copyright form, which must be completed and returned to the publisher. Papers will not be published until the signed copyright disclaimer has been received.
Kindly download the copyright for below and attach as a supplimentry file during article submission