Effect of Soybean Milk and Tris Egg Yolk Based Extender on Semen Quality Parameters of Tharparkar Bull
ABDUL SAMAD MEMON

ASMATULLAH KAKA

ABDULLAH CHANNO

MUHAMMAD BAKHSH

QUDRATULLAH KALWAR

ABDULLAH SETHAR
Keywords:
Tharparkar Bull, Cryopreservation, Soya bean extender, Tris-Extender, Spermatozoa
Abstract
About 40 (n=10) ejaculates were taken from four Tharparkar Bulls (A, B, C, D) having age of 4-5 years, after the collection, ejaculates were examined for initial evaluation i.e. volume, color, pH, motility, wave motion, viability, morphology, membrane integrity and sperm concentration. Ejaculate having ≥ 70% motility, morphology, membrane integrity and viability were processed and extended into Tris based extender (Control) and Soyabean extender with 3, 6, 9, 12, 15ml concentration of soybean milk. frozen thawed samples were evaluated for motility, morphology, viability and membrane integrity. samples diluted in tris extender resulted in48.50±1.2 motility, 65.00±1.5 morphology, 67.25±3.4 viability and 63.75±2.9 membrane integrity. However, In Soyabean based extender at the quantity of9 ml frozen samples improved semen quality parameters 57.75±1.1 motility, 73.00±3.4 morphology, 72.25±0.3 viability and 70.25±1.3 membrane integrity. After lab-based evaluation, samples diluted with Tris and optimized concentration of 9 ml of Soyabean based extender were inseminated into 20 cows (n=10 each group). Pregnancy was followed after 60 days of AI (Artificial Insemination) Semen diluted with Soya bean-based extender resulted in improved conception rate up to 60%. It was concluded that the soyabean based extender improved the cooled and frozen thawed semen quality of Tharparkar bull semen.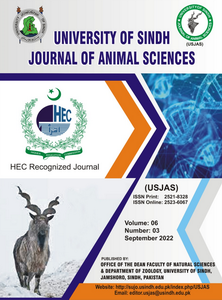 papers are accepted on the understanding that the work has been submitted exclusively to the journal and has not been previously published. Authors will be supplied with copyright form, which must be completed and returned to the publisher. Papers will not be published until the signed copyright disclaimer has been received.
Kindly download the copyright for below and attach as a supplimentry file during article submission