Bioaccumulation of Heavy Metals in Water, Algae, Sediments, Egg Shells and Feathers of ANAS PLATYRHYNCHOS From River Swat and Barandu KP, Pakistan
MUHAMMAD QAYASH KHAN

Department of Zoology, Abdul Wali Khan University, Mardan, Pakistan

ABDUR RAUF

Department of Botany, Abdul Wali Khan University, Mardan, Pakistan

FAROOQ JAN

Department of Botany, Abdul Wali Khan University, Mardan, Pakistan

ZIA-UL ISLAM

Department of Biotechnology, Abdul Wali Khan University, Mardan, Pakistan

KARIMULLAH

Department of Zoology, Abdul Wali Khan University, Mardan, Pakistan

ZUBAIR ALI

Directorate of Fisheries, Government of Khyber Pakhtunkhwa Peshawar, Pakistan

MUHAMMAD ZUBAIR ANJUM

Department of Zoology, Pir Mehr Ali Shah Arid Agriculture University, Punjab, Pakistan
Keywords:
River Swat heavy metals, eggshells Anas platyranchos, pollutants, aquatic, food chain
Abstract
The concentration of selected heavy metals in water, algal flora and sediments and their bioaccumulation in eggshells and feathers of Anas platyranchos were measured at target sites along River Swat and River Barandu in Khyber Pakhtunkhwa, Pakistan. The order of HMs in water and sediment samples at River Swat was Cd > Zn > Ni > Cu > Cr > Pb and Zn > Cd > Ni > Cu > Cr > Pb, respectively. While in River Barandu, it was Cu > Cd > Zn > Ni > Cr ≈ Pb and Cu > Zn > Cd > Ni > Pb > Cr, respectively. The concentration of Cu, Zn, Ni, Cd and Pb was below the WHO permissible limits while the concentration of Cr exceeded the permissible limits in the water of River Swat, however, in River Barundu the selected HMs were under the safe limit. The target HMs in both rivers taken by A. plathyrnachos via water, sediments and food showed higher bio-concentration factor when compared to bio-sedimentation factor. Comparatively, River Swat was found to be more polluted than River Barundu for the selected HMs. The higher rate of bioaccumulation in the eggshells and feathers of A. platyranchos investigated in the present study can be considered a reliable biomarker to assess the biomagnification of pollutants in an aquatic food chain.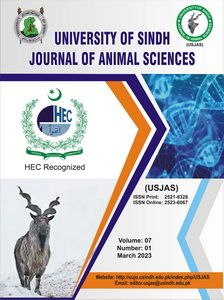 papers are accepted on the understanding that the work has been submitted exclusively to the journal and has not been previously published. Authors will be supplied with copyright form, which must be completed and returned to the publisher. Papers will not be published until the signed copyright disclaimer has been received.
Kindly download the copyright for below and attach as a supplimentry file during article submission