Toxicopathological Effects of Oral Sodium Arsenite on Production of Layers
BARIRAH REHMAN TALPUR

Department of Veterinary Pathology, Sindh Agriculture University Tando Jam, Pakistan

ZAHEER AHMED NIZAMANI

Department of Veterinary Pathology, Sindh Agriculture University Tando Jam, Pakistan

MANSOOR TARIQ

Department of Veterinary Pathology, Sindh Agriculture University Tando Jam, Pakistan

IMDAD HUSSAIN LEGHARI

Department of Poultry Husbandry, Sindh Agriculture University Tando Jam, Pakistan

AYAZ ALI MEMON

National Center of Excellence in Analytical Chemistry, University of Sindh, Jamshoro, Pakistan
Keywords:
Sodium Arsenite, toxicity, egg quality, egg production
Abstract
Arsenic is a highly toxic metal found in surface as well ground water in many areas of South Asia and can affect humans, animals as well as commercial poultry industry. The present study aimed to assess toxico-pathological effects of arsenic on egg production, quality and health of layers. Seventy-five Hy-Line W-36 layers were divided into four treatment groups (B, C, D, E) which were daily given 1mg, 5mg, 10mg, and 20 mg/kg/bw respectively of sodium arsenite in drinking water for three weeks while one group (A) served as control. The groups were examined weekly for determination of body weight. Further, egg production, weight and quality parameters like albumin, yolk, shell weight, thickness and Haugh unit were assessed. Deleterious effects of sodium arsenite were found to be dose and time dependent. There was a significant decrease in egg production, egg weight, albumin weight, yolk weight, shell weight, shell thickness and Haugh unit. There was decreased feed intake, increased water intake and reduced body weight. In conclusion, the sodium arsenite in drinking water produces adverse effects on egg production and quality of layers in time and dose dependent manner.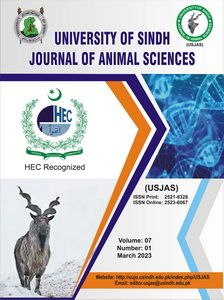 papers are accepted on the understanding that the work has been submitted exclusively to the journal and has not been previously published. Authors will be supplied with copyright form, which must be completed and returned to the publisher. Papers will not be published until the signed copyright disclaimer has been received.
Kindly download the copyright for below and attach as a supplimentry file during article submission