Efficacy of Different Neonicotinoids and Bio Pesticides on Okra Against Bemisia Tabaci
AZAZ AHMAD

Department of Entomology, The University of Agriculture Peshawar, Pakistan

MIZBAH ULLAH

Department of Entomology, The University of Agriculture Peshawar, Pakistan

YASIR ALI

Department of Entomology, The University of Agriculture Peshawar, Pakistan

MOHAMMAD AKIF

Department of Entomology, The University of Agriculture Peshawar, Pakistan

ZEESHAN WALI

Department of Entomology, The University of Agriculture Peshawar, Pakistan

HAMZA JAMIL

Department of Entomology, The University of Agriculture Peshawar, Pakistan

WASEEM HAYAT

Department of Plant Protection, The University of Agriculture Peshawar, Pakistan

QAISAR HAMAD

Department of Entomology, The University of Agriculture Peshawar, Pakistan

RAHEEMULLAH

Department of Plant Protection, The University of Agriculture Peshawar, Pakistan

FARMAN ULLAH

Department of Plant Protection, The University of Agriculture Peshawar, Pakistan

SAEEDA

Entomology Section, Agricultural Research Institute Tarnab Peshawar, Pakistan

MUHAMMAD HARIS SAFI

Department of Entomology, The University of Agriculture Peshawar, Pakistan
Keywords:
Acetamiprid, Bemisia tabaci, Bio-pesticides, Clothianidin, Imidacloprid
Abstract
The current study was investigated at the Agricultural Research Institute Tarnab, Peshawar during 2020 in a Randomized Complete Block Design (RCBD) with three replications. The study aimed was determining the efficacy of different neonicotinoids insecticides and bio- pesticides against Bemisia tabaci on okra crop. Results revealed that significantly maximum number of whitefly (Bemisia tabaci) population reduction was recorded in imidacloprid (7.55plant-1) treated plot followed by acetamiprid (8.88plant-1) and bio-pesticides (11.99 plant-1) while minimum population reduction was recorded in clothianidin (14.66 plant-1) treated plot over checked plot after 1st application while similar observation was recorded after the 2nd application. In terms of CB ratio, highest CB ratio was recorded by imidacloprid treated plot followed by bio pesticide, acetamiprid and clothianidin while lowest CB ratio was recorded by acetamiprid. Similarly, the research work concluded that overall best performed by imidacloprid after 1st and 2nd application while minimum control was observed by clothianidin treated plot over the control treatment.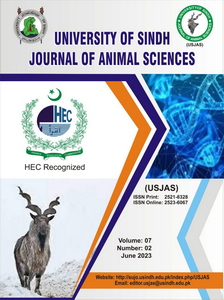 papers are accepted on the understanding that the work has been submitted exclusively to the journal and has not been previously published. Authors will be supplied with copyright form, which must be completed and returned to the publisher. Papers will not be published until the signed copyright disclaimer has been received.
Kindly download the copyright for below and attach as a supplimentry file during article submission