Evaluation of Different Salinity Levels on Growth Performance and Proximate Composition of WALLAGO ATTU
MUHAMMAD OWAIS

Department of Fisheries, Saline Water Aquaculture Research Center (SWARC), Muzaffargarh, Punjab, Pakistan

RANA MEHROZ FAZAL

Department of Zoology, Ghazi University, Dera Ghazi Khan

RIAZ-UD-DIN QURESHI

Department of Fisheries, Saline Water Aquaculture Research Center (SWARC), Muzaffargarh, Punjab, Pakistan

RIFFAT YASIN

Faculty of Veterinary Sciences, MNS, University of Agriculture, Multan, Punjab, Pakistan

MUHAMMAD IRFAN

Department of Fisheries, Saline Water Aquaculture Research Center (SWARC), Muzaffargarh, Punjab, Pakistan

MUHAMMAD WAJAHAT AMEER

Department of Fisheries, Saline Water Aquaculture Research Center (SWARC), Muzaffargarh, Punjab, Pakistan

RIDA RIAZ MALIK

Department of Fisheries, Saline Water Aquaculture Research Center (SWARC), Muzaffargarh, Punjab, Pakistan

IQRA SHER

Department of Fisheries, Saline Water Aquaculture Research Center (SWARC), Muzaffargarh, Punjab, Pakistan

INAYAT ULLAH MALIK

Department of Zoology, Ghazi University, Dera Ghazi Khan

KHIZAR SAMIULLAH

Department of Zoology, Ghazi University, Dera Ghazi Khan

MUHAMMAD ALI

Department of Statistics, Ghazi University, Dera Ghazi Khan

AQSA SARWAR

Department of Zoology, Government College University, Faisalabad
Keywords:
Wallago attu, Salinity levels, Growth performance, Proximate composition, River Chenab, Muzaffargarh
Abstract
The study was conducted to determine the optimum level of salinity tolerance on the growth performance and proximate composition of Wallago attu fed with tilapia meat. The experimental fish were collected from River Chenab district Muzaffargarh and acclimatized for 14 days in freshwater before the experiment began. The fish were divided into five treatments: T1, T2, and T3 with salinity levels 4, 8 and 12-ppt respectively with a control group (T0) in freshwater. Each treatment had one replicate and fish were stocked at a density of 5 fish's/aquarium in the Laboratory. Fish were fed 5% of their body weight with tilapia meat and water was exchanged regularly after every alternate day. The present study indicates the highest survival rate at 12-ppt and mortality was observed beyond this point. Non-significant changes in growth parameters viz; Feed intake, Feed conversion ratio, and Weight gain, were found in treatments and the control group. Additionally, proximate composition (moisture, ash content, protein and fat) showed significant changes (P<0.005) in groups. Water quality parameters were found within the acceptable range during the study period. The result suggests that W. attu is a suitable species for rearing in harsh water earthen lakes and emphasizes the importance of considering salinity levels and leads to innovation in sustainable aquaculture practices.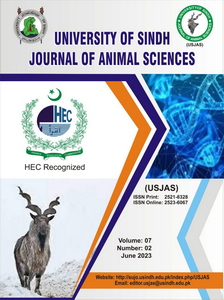 papers are accepted on the understanding that the work has been submitted exclusively to the journal and has not been previously published. Authors will be supplied with copyright form, which must be completed and returned to the publisher. Papers will not be published until the signed copyright disclaimer has been received.
Kindly download the copyright for below and attach as a supplimentry file during article submission