Exploring The Impact of Weather Factors on the Population Trend of Oxycarenus Laetus Kirby (Dusky Cotton Bug) and Natural Enemies in Different Agro-Ecological Zones of Sindh, Pakistan
MUHAMMAD MITHAL RIND

Department of Zoology, Faculty of Natural Sciences, Shah Abdul Latif University, Khairpur, Sindh, Pakistan

HAKIM ALI SAHITO

Department of Zoology, Faculty of Natural Sciences, Shah Abdul Latif University, Khairpur, Sindh, Pakistan
Keywords:
Dusky cotton bug, population, weather, cotton, natural enemies
Abstract
The research work was carried out in different agro-eco-zones of Sindh, Pakistan at the experimental field area of Cotton Agriculture Research Station at Tandojam, Sakrand, Kotdiji and Sarhad, 2019. The peak population of the Dusky cotton bug (DCB) was recorded at Tandojam. The high population of natural enemies like Chrysoperla, Orius, and Mirid bug was observed from July to September. The peak pest of pest observed averagely at Tandojam and Sakrand (49 to 23%). The abiotic factors like temperature and humidity averagely at Tandojam and Sakrand (32 to 50%) followed by Kotdiji and Sarhad (41 to 18%) recorded ideal for Chrysoperla, Orius, and Mirid bug. The abiotic factors were recorded as favorable for natural population multiplication like temperature and respectively.  The weather factors noted optimum for spider population at Tandojam. It was concluded that the peak population of the pest was observed in different agro-eco-zones from September and October.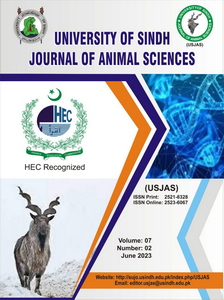 papers are accepted on the understanding that the work has been submitted exclusively to the journal and has not been previously published. Authors will be supplied with copyright form, which must be completed and returned to the publisher. Papers will not be published until the signed copyright disclaimer has been received.
Kindly download the copyright for below and attach as a supplimentry file during article submission