Variation in Spatial Distribution of Spider Fauna Between Agricultural and Arid Land of Shujabad, Punjab, Pakistan
SHEIKH MUHAMMAD AZAM

Department of Zoology, Division of Science and Technology, University of Education Lahore, Pakistan

HASSAN RAZA KHAN

Department of Zoology, Islamia University of Bahawalpur, Punjab, Pakistan

NUZHAT SIAL

Department of Zoology, Islamia University of Bahawalpur, Punjab, Pakistan

NISAR AHMAD

Department of Zoology, University of Jhang, Punjab, Pakistan

GHULAM MUSTAFA

Department of Zoology, Islamia University of Bahawalpur, Punjab, Pakistan

SANA KAUSAR

Department of Zoology, Govt. College University Faisalabad, Punjab, Pakistan
Keywords:
Spiders, Biodiversity, Abundance, Agricultural, Arid Land
Abstract
Spiders are the little creature that have key role in ecosystem especially in terms of biodiversity controlling agent. This survey-based study was conducted on spiders to assess their diversity in two different habitat conditions of Pakistan. In this study, 29 species, 15 genera and 7 families were collected. Lycosidae family had the highest diversity 55% followed by Araneidae (29%), Gnaphosidae (3%), Salticidae (3%), Oxyopidae (0.35%), Tetragnathidae (7%) and Thomisidae (3%). The Hippasa, Pardosa, Eriovixia, Araneus, Tetragnatha, Sitticus and Gnaphosa were most dominant genus out of observed 15 genera. Furthermore, the dominant species in agricultural land includes; Pardosa sutherlandi, Araneus nympha, Eriovixia lagleizai and Tetragnatha javana. The arid land was dominated by Hippasa holmerae, Hippasa pisaurina, Pardosa leucopalpis, Thomisus dostinikus and Gnaphosa harpax. Moreover, results for Simpson and Shannon indices revealed that the maximum diversity was found in habitat C as 82% on Simpson scale and 84% on Shannon scale. The Sorenson similarity indices revealed there is no more overlap between the different habitats species diversity. The study concluded that the agricultural land having scattered plants like mangos had higher diversity of spiders.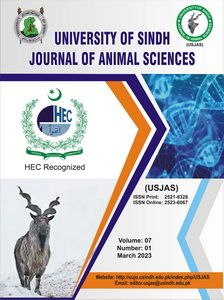 papers are accepted on the understanding that the work has been submitted exclusively to the journal and has not been previously published. Authors will be supplied with copyright form, which must be completed and returned to the publisher. Papers will not be published until the signed copyright disclaimer has been received.
Kindly download the copyright for below and attach as a supplimentry file during article submission