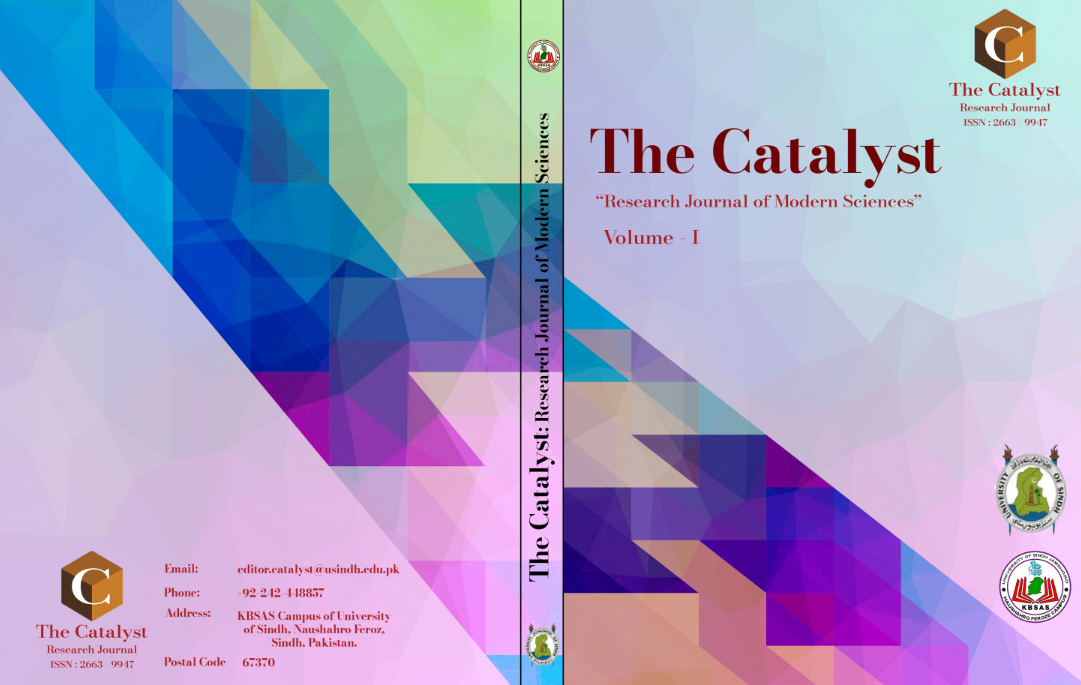 The Catalyst is an annual peer-reviewed research journal of modern sciences published by KBSAS Campus of University of Sindh Jamshoro, Naushahro Feroze. The journal constitutes local, national, and international research papers including but not limited to Critical reviews, empirical researches, case studies, and action researches. The focus of this journal is on interdisciplinary themes including but not limited to Business / Management / Commerce, English Literature, Arts and Humanities, Social Sciences, Information Technology, and Computer Science. The purpose of this journal is to provide a platform along with a level playing field and present the research work of policymakers, researchers, social scientists, scientists, Professors/Teachers, and research students globally.
Editor
Mr. Amjad Ali Memon
Vol 1 No 1 (2019): The Catalyst: The Research Journal of Modern Sciences
This is the first issue of the research journal "The Catalyst" in your hands as a result of the efforts of the KBSAS Naushahro Feroze Campus of University of Sindh, Jamshoro. "The Catalyst" is a small effort on a large scale to motivate and encourage the researchers in the relevant fields of modern sciences in order to create an innovative atmosphere not only among the practitioners, researchers but also the academic fellows/students.
Published: 2019-12-03
View All Issues
The Catalyst is a peer reviewed research journal of modern sciences published by KBSAS Campus of University of Sindh Jamshoro, Naushahro Feroze. The journal constitutes local, national and international research papers including but not limited to Critical reviews, empirical researches, case studies and action researches. The focus of this journal is on interdisciplinary themes including but not limited to Business / Management / Commerce, English Literature, Arts and Humanities, Social Sciences, Information Technology and Computer Science. The purpose of this journal is to provide a platform along with level playing field and present the research work of policy makers, researchers, social scientists, scientists, Professors/Teachers and research students globally.
Editor
Mr. Amjad Ali Memon