Current Issue
Vol 11 (2019): The Women
I delightedly introduce to you the 11th issue of THE WOMEN's (Annual Research Journal of Gender Studies), it is one among the most credible Research journals of Pakistan, in the area of Gender and women studies. We founded "The Women" research journal to showcase outstanding research papers regarding the issues concerning women. "The Women" provides a really exciting opportunity to consider the truly interdisciplinary nature of Gender/women Studies at a time of great transformation across the World.
Editor
Professor Dr. Misbah Bibi Qureshi
Institute of Gender Studies
University of Sindh, Jamshoro
& Member (NCSW) Pakistan
View All Issues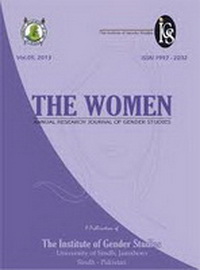 The main focus of the journal is to promote consciousness and awareness about gender equity and balance in human interaction including academic work. The Women Journal provides a forum for the presentation of scholarship and criticism about women and gender in the fields of literature, history, art, sociology, law, political science, economics, anthropology and the other sciences. The Women also publish research papers / review of books, film and theatrical performances / reports on national and international conferences, symposia and workshops etc. It has a highly qualified Advisory Board with strong commitment to gender issues, representing academics and research from around the world, including Pakistan.
Professor Dr. Zareen Abbasi
Editor In-Cheif
Dr. Misbah Bibi Qureshi
Editor