Performance Analysis of Dajal Cattle Under Semi Intensive System at Rajanpur
HAFIZ MUHAMMAD ADEEL FAROOQ

HUMA RIZWANA

ATIQUE AHMED BEHAN

GHULAM SHABIR BARHAM

MUHAMMAD BILAWAL ARAIN

MUHAMMAD SOHAIB
Keywords:
Dajal cattle, performance, semi intensive system, Rajanpur
Abstract
The present study was conducted on Dajal cattle at Government livestock station, Fazal pur, Rajanpur. For this purpose, the available data of last four years (2017-2020) on the reproductive and productive performance of Dajal cattle was utilized. Information of 30 animals was used and remaining data was excluded from the record. Productive performance in an average value are for traits like birth weight, lactation length, milk yield, were 26±1.65, 203±1.38, 826±1.38 respectively. Similarly, reproductive performance in an average value are for traits like age at first calving, age at first conception, dry period, service period and calving interval were 1219±3.21, 937±1.15, 239±17.7, 164±1.69, and 448±1.84 respectively. On the basis of high weaning weight, birth weight and growth rate, In Dajal cattle there is late age at first calving, so this breed not suitable for dairy purpose. It is concluded that the Dajal breed is low milk producer, attained late age at first calving, late age at puberty, and having calving interval long and postpartum estrus period. It has been noted that the Dajal breed could be reared for meat purpose. The reproductive performance and milk yield was found very low, which needs to be improved by improving management practices and outcrossing or cross breeding program on scientific line.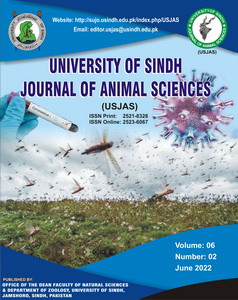 papers are accepted on the understanding that the work has been submitted exclusively to the journal and has not been previously published. Authors will be supplied with copyright form, which must be completed and returned to the publisher. Papers will not be published until the signed copyright disclaimer has been received.
Kindly download the copyright for below and attach as a supplimentry file during article submission