Mass Rearing of Acrida Exaltata (Orthoptera: Acrididae) Under the Laboratory Conditions
MUHAMMAD YOUNUS

MUHAMMAD WASEEM

MUHAMMAD ZAIN-UL-ABEDIN

MUHAMMAD SHAHZAD
Keywords:
Acrida exaltata, diets, Pennisetum glaucum Saccharum officinarum, moulting feacal.
Abstract
Pilot study was carried out in order to rear Acrida exaltata (Walker) under laboratory conditions. Target insects were reared on two diets Pennisetum glaucum and Saccharum officinarum. Culture was maintained for about 8days in the laboratory in order to observe feeding preference, moulting and feacal production. It was noted that insects feed more on P. glaucum (bajra) leaves compared to S. officinarum (sugar cane). Mortality and molting were also noted during this time. However, there was no significant difference in Mortality of insects on these diets.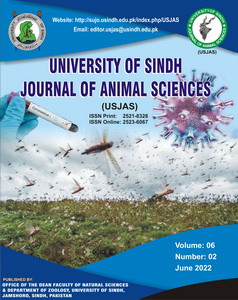 papers are accepted on the understanding that the work has been submitted exclusively to the journal and has not been previously published. Authors will be supplied with copyright form, which must be completed and returned to the publisher. Papers will not be published until the signed copyright disclaimer has been received.
Kindly download the copyright for below and attach as a supplimentry file during article submission