Prevalence of Enterotoxemia (Pulpy Kidney Disease) in Goat: A Comprehensive Review
MUHAMMAD MOHSEN RAHIMOON

Shaheed Benazir Bhutto University of Veterinary & Animal Sciences Sakrand Sindh Pakistan

JAM KASHIF ZAMAN

Department of Veterinary Medicine, Sindh Agriculture University Tandojam Sindh Pakistan

AMJAD HUSSAIN MIRANI

Department of Veterinary Medicine, Sindh Agriculture University Tandojam Sindh Pakistan

QUDRATULLAH KALWAR

Shaheed Benazir Bhutto University of Veterinary & Animal Sciences Sakrand Sindh Pakistan

AMBREEN LEGHARI

Shaheed Benazir Bhutto University of Veterinary & Animal Sciences Sakrand Sindh Pakistan

FAIZ MUHAMAD KHAND

Shaheed Benazir Bhutto University of Veterinary & Animal Sciences Sakrand Sindh Pakistan

TARIQUE AHMED KHOKHAR

Shaheed Benazir Bhutto University of Veterinary & Animal Sciences Sakrand Sindh Pakistan

ARAB KHAN LUND

Sindh Institute of Animal Health Karachi Pakistan

MUHAMMAD YOUSIF JAKHRANI

Shaheed Benazir Bhutto University of Veterinary & Animal Sciences Sakrand Sindh Pakistan

HUBDAR ALI KOLACHI

Shaheed Benazir Bhutto University of Veterinary & Animal Sciences Sakrand Sindh Pakistan
Keywords:
Enterotoxaemia, Clostridium perfringens, Intoxication, Pulpy kidney, Goat
Abstract
Goat is considered as poor man's cow and is among the earliest small ruminant species to be domesticated and are reared for meat and milk purpose, at least since 2500 B.C. in the Middle East. Goats contributes largely to the livelihood of livestock keeping households of low- and medium-input farmers, many of whom have few resources beyond their small holdings and livestock. It has been observed that maximum production can be obtained by protecting them from different prevalent diseases like enterotoxaemia. Enterotoxaemia is a fatal disease of small and large ruminant's animal species; severe outbreak causes huge economic losses to livestock holders. This disease is also known as pulpy kidney disease due to systemic lesions observed on kidney as it causes nephritis and hydro nephrosis. Enterotoxaemia in goats occurs in four forms, i.e. Per acute, acute, subacute and chronic form. Severe outbreak of this disease observed in warm wet weather at the time of start of monsoon season every year and is having worldwide distribution. Factors which are responsible for exposing the animals towards the enterotoxaemia are sudden changing in diet as animals diet change from poor nutrient pastures to the rich nutrient pastures and changing in environmental temperature as warm wet weather is an ideal environment for the multiplication and toxins production of disease-causing microorganism. It can be diagnosed by detection of specific antibodies, clinical signs and post-mortem lesions. Infected animals can be treated by parental injection of specific chemotherapeutic agents or antitoxins and can be controlled by changing in dietary schedule and vaccination. Still, the pathology and pathogenesis of goat enterotoxaemia is not well understood, with limited studies available in goats. This review provides details information regarding the epidemiology, pathology and pathogenesis of enterotoxaemia in goat which might be helpful for future studies.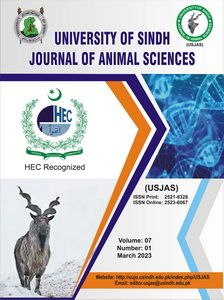 papers are accepted on the understanding that the work has been submitted exclusively to the journal and has not been previously published. Authors will be supplied with copyright form, which must be completed and returned to the publisher. Papers will not be published until the signed copyright disclaimer has been received.
Kindly download the copyright for below and attach as a supplimentry file during article submission