Antibacterial Efficacy of Indigenous and Exotic CARPS MUCUS Against Common Pathogenic Bacteri
SAMINA QAMER

1Government College University Faisalabad

FARKHANDA ASAD

Government College University, Faisalabad.

RAFIA JAMAL

Government College University, Faisalabad.

ZUNAIRA SHAHEEN

Government College University, Faisalabad.

AIMAN NADEEM

Government College University, Faisalabad.

SEHAR BANO

Government College University, Faisalabad.

NAVAIRA BATOOL

Government College University, Faisalabad.

NOSHABA ANWAR

Government College University, Faisalabad.
Keywords:
Exotic Carps, Indigenous Carps, Mucus, Fish pathogens, Antibacterial activity.
Abstract
The trial was conductedto study the antibacterial efficacy of Indigenous (Cirrhinus mrigala & Labeo rohita) and Exotic Carps (Hypophthalmichthys molitrix &Cyprinus carpio) mucus against common pathogenic bacteria. All fish species of 300 to 350g were stocked and acclimatized for 15 days, weaned on commercial diet at 4% body weight. Before mucus collection fish were starved for 24 hours. Mucus secreted on epidermal surface of fish was collected in 5 attempts with time interval of 20 minutes. Bacterial strains i.e. Pseudomonas aeruginosa, Klebsiella pneumonia, Escherichia coli, and Staphylococcus aureus were taken from the department of Zoology Government College University Faisalabad research lab repository. Ciprofloxacin was used as positive control. L. rohita secreted highest amount of mucus while least amount of mucus was secreted by C. carpio. Appearance of mucus of L. rohita, H. molitrix and C. carpio were highly viscous while C. mrigala was less viscous. Antibacterial activity of fish mucus shown that indigenous carps exhibited the best antibacterial activity as compared to exotic carps. Maximum antibacterial activity was observed by L. rohita mucus among indigenous carp. It showed more effect in controlling the growth of P. aeruginosa with zone of inhibition (23mm). These results showed that carp mucus play important role in protection of fish against the invasion of pathogens. Fish skin mucus can be utilized as an alternative of antibiotics which perhaps could be employed in aquaculture and also for humans. Being a natural product, therefore, it could help in reducing the problems of antibiotic resistance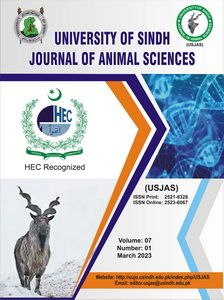 papers are accepted on the understanding that the work has been submitted exclusively to the journal and has not been previously published. Authors will be supplied with copyright form, which must be completed and returned to the publisher. Papers will not be published until the signed copyright disclaimer has been received.
Kindly download the copyright for below and attach as a supplimentry file during article submission