Metals Mixture (Zinc+Lead) Induced Changes in Movement Patterns Of Cirrhina Mrigala
HAROON S

ABDULLAH S

NAZ H

ABBAS K

AHMED T
Keywords:
Fish, metal mixture, behavior, toxicity
Abstract
The widespread use of metals for industrial and non-agricultural purposes has resulted in the presence of their residues in various environmental matrices. Metal contamination of surface waters has been well documented worldwide and constitutes a major issue that gives rise to concerns at local, regional, national and global scales. Metals have a great impact on the behavioral parameters of fish. Therefore, in present research work was designed to evaluate the behavioral changes in fish, Cirrhina mrigala exposed to 96-hr LC50 concentration of zinc(Zn)+lead(Pb) of mixture for 4 days. Results showed that the exposure of Zn+Pb mixture increased the jumping, equilibrium status, opercula movement, fin movement, convulsion, hyperactivity and surfacing frequency of fish as compared to control group. It was also concluded that metals exposure altered the behavior of fish.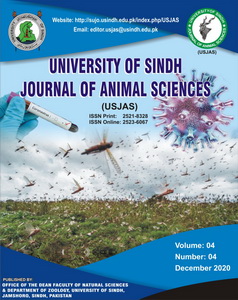 papers are accepted on the understanding that the work has been submitted exclusively to the journal and has not been previously published. Authors will be supplied with copyright form, which must be completed and returned to the publisher. Papers will not be published until the signed copyright disclaimer has been received.
Kindly download the copyright for below and attach as a supplimentry file during article submission