Efficacy of Conventional Insecticides Against Maize Stem Borer (Chilo Partellus) and Shoot Fly (Atherigona Soccata)
MAHEEN KHAN

MUHAMMAD FARHANULLAH KHAN

AMJAD SULTAN

GHAZALA YASMEEN
Keywords:
Chilo partellus, Atherigona soccata, Imidacloprid, Thiamethoxam, Endosulfan, Permethrin, Carbofuran, Phorate
Abstract
Maize stem borer, Chilo partellus Swinhoe and shoot fly, Atherigona soccata Rondani are considered as major pests of maize (Zea mays, L.). Carbofuran (Carbamate), Endosulfan (Organochlorine), Phorate (Organophosphate), Permethrin (Pyrethroid) and two neonicotinoid insecticides; Imidacloprid and Thiamethoxam were selected to compare their efficacy against Chilo partellus and Atherigona soccata on maize crop under natural infestation during spring, winter and autumn seasons. All insecticides reduced Atherigona soccata and Chilo partellus infestation significantly (p<0.05). Imidacloprid and thiamethoxam were found statistically at par against Atherigona soccata and better than endosulfan. Permethrin and carbofuran were found statistically at par in first week and better than phorate while in second week permethrin and carbofuran were statistically at par but phorate was found better than them.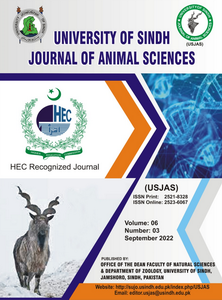 papers are accepted on the understanding that the work has been submitted exclusively to the journal and has not been previously published. Authors will be supplied with copyright form, which must be completed and returned to the publisher. Papers will not be published until the signed copyright disclaimer has been received.
Kindly download the copyright for below and attach as a supplimentry file during article submission