Biotopic Features Change the Size of Carabus Odoratus Shil
ANATOLIY SAVELIEV1

Kazan (Volga Region), Federal University 18, Kremlevskaya str. Kazan 420018 Russian Federation

TATYANA ANANINA

State Budgetary Establishment "Zapovednoe Podlemorie", Komsomolskaya str. 44 – 64, Ulan Ude 670045 Russian Federation

RAISA SUKHODOLSKAYA

State Budgetary Establishment Research Institute for Problems of Ecology and Mineral Wealth, Daurskaya str. 28, Kazan 420087 Russian Federation
Keywords:
body size variation, ground beetles, biotope, morphometry, mountains
Abstract
Body size variation attracts attention of many researchers in different fields because of its importance in organisms functioning. We sampled ground beetles of mountain species Carabus odoratus in different biotopes of Barguzinskiy Ridge (northeast part of Baikal Lake; N 54° 20'; E 109° 30'; Russia). Nine biotopes at different elevation were under the study. We measured sampled beetles for six morphometric traits (elytra, pronotum, head lengths and width). In total 984 specimens were measured individually. Length parameters varied to greater extent in C. odoratus. Elytra length and pronotum and head length as well were significantly shorter in beetles dwelling in aspen, fir, tundra, health and park birch if compared with ones in forestry habitats. Wherein width parameters were, roughly speaking, similar in beetles of all studied biotopes. Undoubtedly observed effect of biotope impact on beetles' size variation was connected with differing environmental factors at the certain elevations.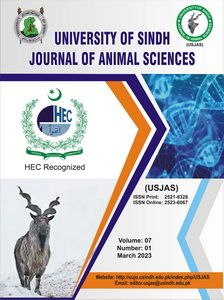 papers are accepted on the understanding that the work has been submitted exclusively to the journal and has not been previously published. Authors will be supplied with copyright form, which must be completed and returned to the publisher. Papers will not be published until the signed copyright disclaimer has been received.
Kindly download the copyright for below and attach as a supplimentry file during article submission